4 minutes reading time
(744 words)
From the President's Desk-July 2014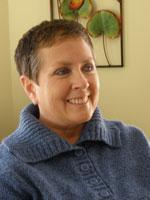 While we enjoy celebrating our history and our community during Pride month each year, this same community is very important because it's the one that gets us through the ups and downs we experience during the rest of the year. I've found myself thinking about loss a lot lately. There are many different types of losses and I've experienced many during my lifetime.
The list is long: beloved pets; my high school boyfriend who died in a vehicle accident; my first girlfriend killed by her drug addiction; the girlfriend I had after that one who died from a heart attack. Then there's the relative who recently relapsed into addiction; a three-decade friendship ended because my friend wouldn't respect my other friendships; a friend from church who passed away from cancer; one of my pastors transferring to a church abroad; close Kinship friends moving across country; and my favorite aunt passing away last month.
I can somewhat rationalize the loss of my aunt. She was 92 years old, and I was able to spend some time with her a few months before she passed away; and she'd been ill with one ailment or another for about a year. Accidents and diseases happen and are a part of life no matter how old we are; but when illness and death aren't involved and relationships fail or friendships change, it can be much, much harder to accept. Of course there are relationships that don't die by themselves but probably should because they're not healthy or mutually respectful. But the losses of people who are still alive can be harder to cope with than the loss of loved ones who pass away.
Although there are these kinds of losses in life and we all go through them in our own way, there can also be a lot of real "finds" in life, too. The precious church friend who passed away last year was one of the most compassionate, kind, and caring men I've ever met and I'm grateful for the time he and his wife touched my life (his wife survives him). I'm grateful for all the girlfriends I've had because they helped me to learn a bit about healthy boundaries and the necessity of letting go and letting God. I'm grateful for the time that Pastor Kumar spent with us at New Hope; he and his wife were very affirming of Keisha and me and the entire Kinship community. He was and is a great friend to us. I'm grateful for an amazing girlfriend who came into my life when I wasn't looking and has stood by me through the whole journey of breast cancer diagnosis, treatment, and surgery and back to health!
One of the most important "finds" in my life has been becoming a member of this Kinship family. Exactly 19 years ago this month, I walked into my first Kinship Kampmeeting not knowing a soul. I left at the end of the week a full member of the family and feeling I had found home. I have never felt more embraced or more at home at an event than I did at my first Kampmeeting, and I think this is the biggest reason I've remained involved with Kinship over these last 19 years: because I wish everyone could feel a part of such a loving family as this one has been for me. Even with all the positive change that Kinship stands for and works towards, it's the relationships we have as members of one community that are most important to me.
I hope that if you've not yet decided to come down to Georgia for Kampmeeting that you will make the decision to check it out. There we will explore the intersection of faith and sexuality in our lives. I always enjoy what I hear and learn in our meetings and workshops, as well as the amazing music and talent of other Kinship members; but I just can't wait to see those members of my Kinship family that I only get to see once a year at our "family reunion," Kinship Kampmeeting.
Even if you can't make it this year, you can offer the people around you a taste of community. We can all encourage one another through the losses and finds of our lives. And if you start planning right now, you can make it to next year's family reunion at Kinship Kampmeeting in Pomona, California! See you there!
Happy Pride, Kinship!
Stay Informed
When you subscribe to the blog, we will send you an e-mail when there are new updates on the site so you wouldn't miss them.