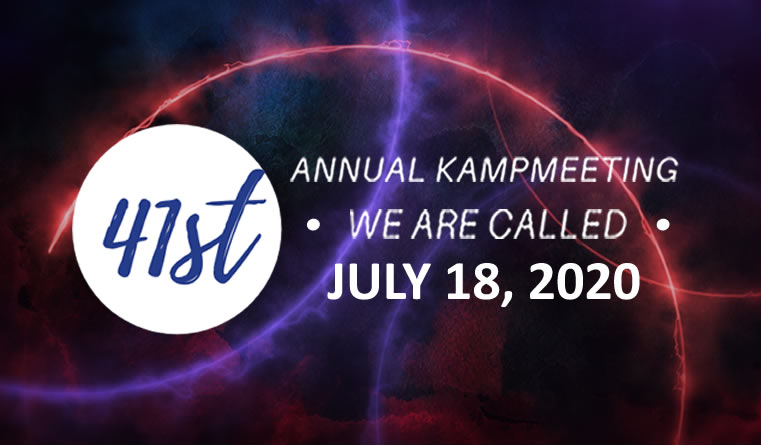 Mark your calendars for Saturday, July 18, 2020. We will have an abbreviated Kinship Kampmeeting Sabbath program online via Zoom. Start time 12 pm EDT / 9 am PDT.
THEME SONG We Are Called
https://youtu.be/sV7qYyYKMhc
10:30 am – 10:45 am PDT /
1:30 – 1:45 pm EDT
Welcome & Announcements
11:00 am – 12:00 pm PDT /
2 – 3:00 pm EDT
Live Zoom Presentation by Brandon Frazier
12:15 pm – 1:15 pm PDT /
3:15 – 4:15 pm EDT
Live Zoom Presentation by Alicia Johnston
1:15 pm PDT /
3:15 pm EDT
Closing Remarks
---
Speakers –
---
Hi everyone,
I'm reaching out to you to let you know that as Kinship leaders we are thinking and praying for you and your loved ones during this global pandemic.
We are doing our part to ensure the safety of our members and allies and so we've made the difficult decision to cancel our annual US Kampmeeting that was scheduled for July in Orlando, Florida.
I've been at every Kampmeeting since 1995 even the year. I fought breast cancer. And so, even though I'm heartbroken, I know it's the right thing to do.
Our leadership team is already thinking of exciting ways for us to stay connected this summer including a shorter virtual version of Kampmeeting. Stay tuned for more information on that, in the meantime.
More of us are staying home in quarantine and practicing physical distancing. We need to not transmit the coronavirus to one another. Please remember all the tools available to you to connect, lift up, and support each other including our members in Facebook and WhatsApp groups. None of us should be isolated. Even if we have to be six feet apart!
To get connected reach out on our social media. You can even meet online in your regions. Last Friday for vespers, Region 2 met up on Google Hangouts to pray and talk about how members were dealing with worry and how they were being supportive to others.
You could invite your chapter to a Zoom Chat, or do a group phone call or talk on Whatsapp. Whatever works best for you wherever you are. The goal is to stay connected.
Before I go, please, please, please, follow the guidance of your local public health leaders! They're letting us know how to slow down the spread of this awful virus and we have to protect each other.
We all need each other now. Virtual hugs are important Even if we're isolated physically we don't need to be isolated emotionally.
Remember in Kinship we have each other. Let's lean on one another from a safe distance. And until we meet again in person. Let's stay close virtually.
Take care, everyone...
Yolanda Elliott
President, SDA Kinship