2 minutes reading time
(387 words)
Group protests new Adventist guidelines at SonRise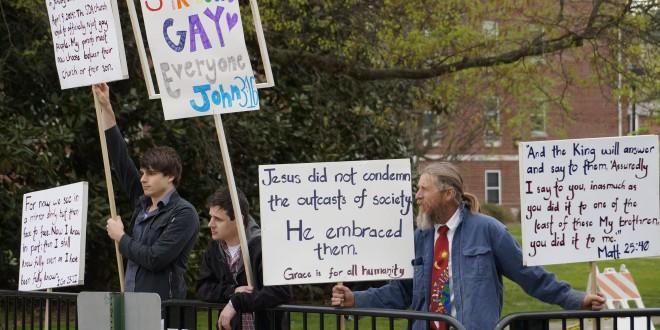 Posted by: Myron Madden April 24, 2014 in News

A small group of people gathered at the edge of campus to protest the Seventh-day Adventist Church's recent guidelines regarding lesbian, gay, bisexual and transgender (LGBT) individuals during SonRise on April 19.
Dylan Padgett, a former Southern student who identifies as gay, led the protest. He was joined by his father, mother, friend and housemate, all of whom stood in the road between the Village Market and Talge from 8:30 a.m. to 4:30 p.m.
The protest was in response to the approval of guidelines regarding homosexuals and other alternative sexual practices on April 9. According to Spectrum Magazine, these guidelines state that regardless of sexual orientation, everyone must be recognized as children of God, meaning that all deviations from ideal sexual conduct should be treated equally, but it is inconsistent with biblical teaching to admit or retain in membership those who live outside the standard.
"With this new measure, the church is forcing my family to officially choose between the church that they have been a part of for over three generations and their gay family members," Padgett said. "We wanted to show the church some of the damage that it causes to families by adopting such policies as it did on the 9th of April."
Padgett called the protest a "silent demonstration" because it was not his intention to disrupt SonRise.
"As a gay person, I was silenced by the church, so it was in silence that we stood," Padgett said. "Only when we were approached by others who were willing to listen did we respond."
While waiting in silence, the protesters received many different reactions from SonRise attendees. Padgett said that the majority were positive, such as people approaching to apologize on behalf of the church, pray, encourage and even offer SonRise tickets. He also said there were some negative responses, such as people who approached to argue and one who yelled "you people need Jesus" from a distance.
"We were not so naïve as to hope to change the church's view and policies with that single act," Padgett said. "We simply wanted to show the church a very real example of the damage they are doing to thousands of families like mine and to support the youth in the church that are struggling between a small but significant part of who they are."
Stay Informed
When you subscribe to the blog, we will send you an e-mail when there are new updates on the site so you wouldn't miss them.