1 minute reading time
(234 words)
Jesus, ISIS and The West by Herb Montgomery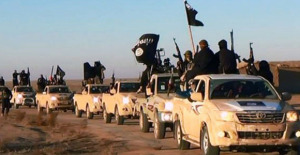 For this is my blood of the covenant, which is poured out for many for the forgiveness of sins.—Jesus (Matthew 26.28)
What did Jesus mean when he told his disciples that his blood was being poured out for the forgiveness of sins? We must not answer this from our perspective today, but from the perspective of those to whom these words were originally intended.
To first century Jews, who were longing to be free from Roman oppression, the phrase "forgiveness of sins" did not mean that God would forgive their moral infractions and let them into heaven when they died. No, no! "Forgiveness of sins" within the Jewish context that Jesus used this phrase meant that their time of captivity to foreign powers—and most presently, Rome's presence in Jerusalem—would be reversed and the hope of Israel would be restored.
Jesus' blood being poured out through his unjust crucifixion, and the reversing and undoing of that deed by God through the Resurrection, according to Jesus, was not to produce changes in God toward us, but rather radical changes in both the Roman Empire and the Jewish nation that would lead to radical redistribution of how life on Planet Earth is arranged.
Stay Informed
When you subscribe to the blog, we will send you an e-mail when there are new updates on the site so you wouldn't miss them.