2 minutes reading time
(462 words)
SDA
Kinship
Kampmeeting
2019
in
Review

By Cheryl Christopherson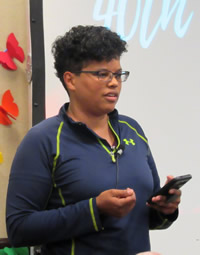 This Kampmeeting was my second. My first was 28 years ago, ironically in Portland. Our venue this year was at the Red Lion Hotel on the River Jantzen Beach. It did not take long to find familiar faces and ones I had only seen online. The weekend theme, "Who Am I?", resonated with me because the last 28 years were a personal journey for discovering the answer.
Here are some highlights from a few of the sessions:
Community advocate Cameron Whitten's Thursday morning message was how one person can literally spark change, bring awareness to injustice, and ignite conversations in marginalized communities: The Arab Spring, Black Lives Matter, Brown Hope, etc. One person might plant a tree but never sit in its shade.
David Brooks, an art teacher at West Hills Community College, taught us that we are an expression of God's art. His two-part session visually guided us through snippets of his personal journey and provided each of us an outlet for self-expression where we created our own collages. Art can recover hope.
Reverend Doug Edwards challenged us to regenerate the sacred practices of listening and storytelling to stem the epidemic of loneliness and mental health issues, and to age well. He encouraged us think of three people that listen to you.
Dr. Brian Ness, a Pacific Union College professor and a sponsor of PUC's Gay-Straight Alliance group, gave us a crash course on who we are biologically speaking in regards to gender determination and sexual development. He and his wife also blessed us with their musical talents throughout Kampmeeting.
Dr. Sylvia Rhue shared her powerful award-winning documentary, "All God's Children." In her Sabbath keynote presentation, she reminded us that God created the entire body complete with the sacred space between our navel and knees. She encouraged us to educate ourselves in regards to the colonial misinterpretation and misrepresentations of Hebrew teachings and laws used to condemn and marginalize God's children. This education can be used to engage in dialogue or most importantly to free ourselves with the knowledge that we are not an abomination. She challenged us to "know your authentic self."
Family and Friends coordinators John and Carolyn Wilt invited us into much needed discourse in an effort to heal relationships and focus on loving one another with our differences. Their continued work in this area is appreciated.
Interwoven between Kampmeeting sessions were priceless connections and conversations. How blessed we were to share meals, tears, laughs, art, song, and dance (more line dancing please!). The creative performances at the Saturday night talent show cannot be translated into words. How about we include interpretive dance as a group therapy session? So, that means we must agree to meet again…just don't wait too long.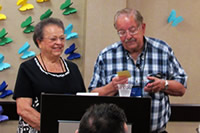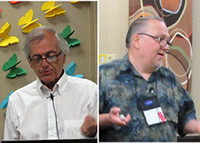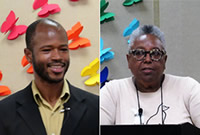 Related
Posts