MESSAGE FROM THE PRESIDENT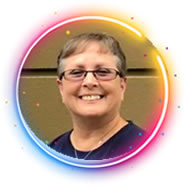 Many Americans are focused on the upcoming presidential election and local elections to be held in November. It seems that with the pandemic situation, many states are working towards holding fair elections. There are also some states that are purging folks from the voter rolls, closing many polling places, and making voting harder in order to influence the outcome of the elections.
One way to look at this is that if you can vote but don't, you really shouldn't complain. But it matters that you vote. If you care about the future of your state or country and even the world, you'll want to do everything in your power to protect the right to vote.
Each year, Kinship holds elections for positions on the board of directors and for members-at-large, who do special projects with the working board. Voting takes place shortly before our annual July Kampmeeting, and the results are announced during the Kampmeeting business meeting.
This year we won't meet in person because of the COVID-19 pandemic. However, just as many Kinship regions have been holding video chats, web call vesper services, and Zoom potlucks while we are unable to meet in person, we will still hold our regularly scheduled international elections. Official ballots will be coming to all members in June, and I want to remind you just how important your participation in Kinship's elections is.
Often, Member Services will send out a message via Facebook and other social media avenues requesting help with a project, a position, or a team. There will be specific positions that need filling at the time of our elections, but we also have a lot of other needs as well. Most of the roles we vote on have teams that work together so that all the work of those positions doesn't rest on just one person's shoulders.
Yet, despite our best efforts to invite and recruit new leaders all year long, one person might work on multiple teams and be stretched more than they should be. Many board members are working on several teams, too. But if we had more folks willing to pitch in, SDA Kinship could grow and thrive unbelievably!
What I would like to request of you this month is this: if you have some time, talent, energy, enthusiasm, passion, or desire to help others in this community, please let us know! You could be a huge help as we navigate the upcoming months and this next year of new board members and leadership staff. Come and be a part of the team! You are valuable and valued!
Yolanda Elliott
President
SDA Kinship Int., Inc.