Japan in 1978: My Spiritual Life
BY JERRY MCKAY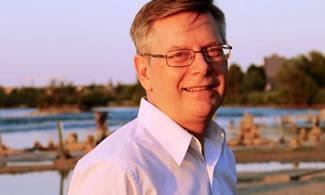 When I left Japan in 1976, I never thought I would be back except, possibly, at some point far in the future. I don't remember any­thing about the return trip except landing in Tokyo. This time, I had no anxiety about living in the land of emperors and atomic bombs. Everything foreign that had concerned me the first time, now reminded me of a place I loved.

1978 was the year of the horse according to the Chinese zodiac, so it was featured everywhere. Remnants of New Year's celebrations still hung in the streets and on private entranceways. Gifts left by visitors could be seen at shrines and temples, and there was still time for me to sample New Year's goodies—many of which were made of or with mochi—a sticky paste from pounded rice prepared and served in every imaginable way.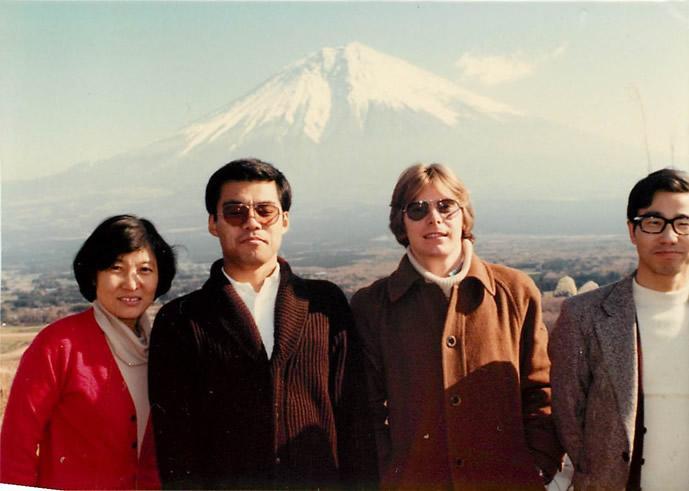 There were other aspects to arriving in January that I had forgotten. The air is clear in winter, making it possible to see the summit of Mount Fuji from the roof of the Adventist hospital. If you timed it right, you might see the silhouette of that sacred mountain as the sun set behind it. Winters are mild by Canadian standards. Minus five degrees centigrade is a cold night in Tokyo. Japanese homes typically have no central heating. The rooms that are heated when occupied are not heated when vacant. The not-so-uncommon result was seeing my breath when I entered a room and occasionally finding a thin layer of ice in the toilet bowl in the morning.

One of my fondest winter memories is of the yakimo man. Yakimo is Japanese for roasted sweet potato. At the time, men roamed the narrow streets pulling carts carrying wood burning stoves. From those carts, the yakimo man sold baked yams and roasted chestnuts. You knew he was in the area because a pre-recorded message cried out from a loudspeaker at his approach. The rather mournful song of—yaaaaaa-kiiii-moooooo—would draw people from their homes. The smell of wood smoke and baked yams against the cold night air added to this special treat.
The most significant difference was my accommodations. The male teachers now lived within walking distance of the school rather than the 40-minute commute by train. I had enjoyed the commute, but the now 20-minute walk through suburban Tokyo was pleasant in any season, day or night. During those walks, I grew to admire the symmetry and clean lines of Japanese architecture. I was drawn to the older homes with their weathered wooden exterior, old and patched paper screen doors, and worn tatami floors. I often wished I could have exchanged our nearer home for one of those old houses. There was just something inviting and comforting about them.
In most respects, my life throughout 1978 was a mirror image of my first year in Japan. That did not mean it was routine. Every day was filled with fascination and meaning. Seeing friends whom I thought I might never see again was the real joy. As before, I spent endless hours teaching English and trying to get as many students as possible into my Bible study classes. Seeing the impact of my efforts in both areas from 1975 held great personal reward.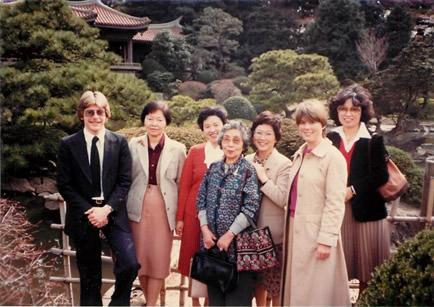 I was pleased to find former students succeeding in English. One middle-aged man who spoke little English when we met in 1975 had moved through the 10 levels the school offered. He beamed when he told me that because of his hard work his company was sending him to Europe and the United States on business. His delight heightened my interest in teaching as a profession.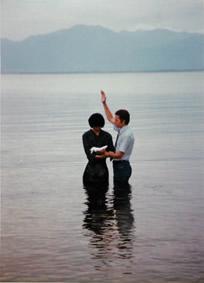 Some friends were still studying the Bible and wanted to pick up where we had left off. I was as eager as they were to do so. A few had been studying with the local pastor and while I was there decided to be baptized. During that summer's English camp, a student-become-friend was baptized. Everyone gathered on the shore of Lake Inawashiro to watch. It was early evening and the setting sun had turned the sky and lake a soft pink. When the language school director raised his hand over my friend and said, "I baptize you in the name of the Father, the Son, and the Holy Spirit," I felt connected to the two millennia of Christian history in a way I had never before.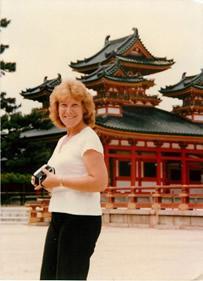 There were two highlights of the year. The first included sharing my love of Japan with my mother. She is an introvert, so she often pushed herself well beyond her comfort level just to experience the world that I had often written home about. Students and friends treated her like royalty, and she was frequently complimented on having raised "such a wonderful son!" Like a trooper, she even went to a public bath with the friend who graciously hosted her during her stay.
Donna was the other highlight. Much to my envy, she had returned to Japan the previous fall for a visit. She was asked by the language school director to stay longer until a replacement could be found for a teacher who had to return to the United States. Donna loved Japan as much as I did, so agreeing to stay for a couple of months was not difficult. We visited numerous times, and she joined my mother and me for part of our whirlwind tour of Japan. All of this added to the uniqueness of our long and deepening friendship. Eventually, she headed back to CUC. From there, we communicated regularly until I returned.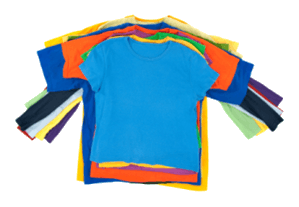 On a humorous note, there was an ego boost aspect about Japan which I had also forgotten. In Canada, when I shop, my clothing size is small. In Japan, I immediately jump to a medium without having to do anything more than buy clothes!
My Spiritual Life
Although most of my religious experience was built on my contemplation of Jesus' life, it also included random selections of scripture. Those random bits had a far greater influence on my spiritual formation than I often realized. One of those bits was Psalm 139. I memorized the chapter in high school. While I found many verses meaningful and encouraging others troubled me. As a young missionary living on the far side of the Pacific, these verses often came to mind and comforted me:
Where can I go from Your Spirit?
Or where can I flee from Thy presence?...
If I take the wings of the dawn,
If I dwell in the remotest part of the sea,
Even there Your hand will lead me,
And Your right hand will lay hold of me.
On the other hand, as awareness of my orientation intensified, these verses troubled me:
For You formed my inward parts;
You wove me in my mother's womb....
My frame was not hidden from You,
When I was made in secret,
And skillfully wrought in the depths of the earth;
Your eyes have seen my unformed substance;
And in Your book were all written
The days that were ordained for me,
When as yet there was not one of them.
Psalm 139 helped to create my theology and then collided with it. If I had not taken scripture so seriously, the angst would not have been so intense. I wrestled with texts like this because I filtered my experience through scripture—as I had been taught to do. Beautiful passages like Psalm 139, which friends might ponder for a time and move on from, caused me spiritual distress. Whether it was in the womb or in my formative years, I experienced my orientation as something "woven" into my person. To borrow Jesus' comment about eunuchs—I felt I was either "born that way" or "made that way."
I often wondered how God could have been so involved in the forming of my "substance" and yet have handed me over to dishonorable passions because I failed to worship God correctly. This is where my "plain reading" approach to Romans chapter one got me into trouble. While I can reconcile these passages now, at the time they bewildered me. Sometimes the conflict tore down my faith rather than build it up. To this spiritual background noise, I added my new preoccupation with personal victory and continual obedience.
I had brought my copy of Venden's sermons on victory and continual obedience with me. Many a quiet morning while still alone in the empty language school, I reflected on his writings. I was more determined than ever to practice the three tangibles he insisted would bring me to a place of personal victory—prayer, Bible study, and Christian witness. For yet another year, I was as intentional about my devotions as I had ever been. I studied my Bible daily and I prayed over the names of family, friends, and students. As a missionary, of course, my days were filled with "Christian witness."
My devotional life was personally uplifting and gave me a great sense of peace and contentment as well as cultivating a deep appreciation of the way of living that Jesus modeled. At the same time, there was no change in my orientation. Because I longed to experience some form of victory over my attractions or some reprieve from the distress, my devotions started to feel like a formula rather than the "thoughtful hour with Jesus" it had always been. Like with insanity, I was doing the same thing over and over and over without experiencing the desired result. My devotions became a substitute for reaching out to someone to talk to. By withdrawing into my very private world of study and prayer, I kept everything locked up inside. I fooled myself into thinking my emotional numbness and stoic control over needs and passions were evidence of victory in my life. This false victory had consequences. I started to experience resentment toward others when they expressed human need—especially intimacy.
One female teacher, for example, experienced more homesickness than the rest of us; or at least she expressed it. I remember feeling annoyed that she was so easily affected by such a mundane need as a connection with family and friends. I did feel lonely from time to time; but when I did, I pushed that feeling aside. I was not able to appreciate her need as a normal response to her circumstances because I never allowed myself to feel much of anything. While I responded appropriately, I could feel the resentment within. I remember thinking that if she would just do as I did—study the Bible and seek God in prayer—she would experience the same control as I did, the same victory!
The other experience of resentment was tied directly to my orientation.
It was obvious that one male teacher liked "the ladies." He also liked photography, and he had many pictures of and with female friends. When I say that they were constantly frolicking in parks and hugging trees in playful poses, I want you to pick up on my resentment. It rose out of a deep ache from wanting to experience his freedom, his comfort, with physical affection and playful intimacy. Every time I saw one of his photos, however, I was reminded of how different we were. I didn't long to frolic with the girls, and I knew it. I wanted to hug trees with male friends, and I could feel it. Whether it had been five photos or five hundred, it would have made no difference. Each picture triggered those why questions, and I felt a profound psychological and spiritual weight.
My feelings of resentment toward the homesick female teacher and the playful male teacher were the result of moving through life as I had walked through that shed full of bees during my summer job—aware of everything around me but detached from it all. Coping with my orientation the way I did, created a wound, and the wound was growing deeper. I was numb but interpreted it as strength. My personality was changing and resentment was one of the consequences.
Like my first year in Japan, my orientation made itself known in the usual ways. Certain male students triggered strong feelings of attraction, and that troubled me. On occasion, at the invitation of a friend, or out of necessity, I was obligated to make a trip to the public bath. With each visit came the accompanying angst. As I said, my accommodations were different. In the little house I shared with the other male teacher, we had our own rooms. It was much easier to be as private as I wanted. As before, there were opportunities to date, but I easily complied with the unspoken expectation not to get involved with the locals. One anecdote with respect to awareness of my orientation stands out from that year.
As a typical twenty-two-year-old, I had a normal curiosity about sex. The mix of my faith and my orientation added a layer of complexity, and Tokyo provided the opportunity to explore my curiosity. No, I didn't have a sexual encounter. The situation was more adolescent in nature, but no less stressful.
I was pretty naïve when it came to condoms. My earliest memory of such is of a "used one" ground into the gravel in our elementary school parking lot. The older guys made jokes about "it" which I pretended to understand. All I picked up on was that it was somehow related to something men and women did in cars late at night. Except for that schoolyard discovery and seeing the odd condom dispenser in grungy service station washrooms, condoms were never a part of my world—until Japan.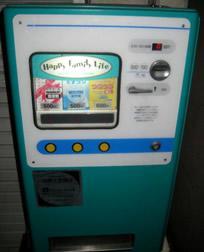 The ubiquitous vending machine that dispensed everything from cigarettes to soap to rice also dispensed condoms. Not tucked away in washrooms but out on the streets usually in front of pharmacies. During my first year, I corralled a Japanese friend into explaining what those machines dispensed. That awkward conversation occurred only once. At that time, I wasn't very interested. Things were different this time.
Like trying not to think about pink elephants after saying pink elephants, those machines beckoned me every time I passed one. After months of thinking about the contents, I couldn't resist any longer. Late one night, I told my roommate I was "going for a walk." That walk took me past a pharmacy I knew was located on a very quiet street in our neighborhood.
As I deposited the appropriate yen into the machine and waited for the contents to emerge, my heart beat as if I were committing a crime. When the little box slid into the mouth of the dispenser, it sounded like a passing train. I grabbed my purchase and fled down the dimly lit street hoping no one had seen me. After all, what would a "single" missionary need with condoms?
I examined the contents, but only when I knew for certain that I was home alone. I discarded them as quickly and discreetly as I had obtained them. I did this a couple of times.
I'm sure my foray into sex education was not unique to me. While others might have felt a sense of naughtiness, their experimentation would have been within the realm of acceptability even within a conservative religious context. Naughty isn't how I felt. When I examined my purchase, it was through the filter of my faith and orientation. Although I "made" myself create images of what was supposed to be the "natural" use of a condom, those images soon faded. The images that flowed naturally were linked to men.
Whatever one might think about a single Christian buying condoms, you can't imagine the angst I felt when I couldn't separate my sexual interests from my same-sex attraction. I couldn't even buy a condom without homosexual images intruding. When the natural biological functioning that God had woven into my male substance responded accordingly, I felt my body was betraying me. With this, more shame was linked to my physical being. If I could have turned off my attractions I would have. If I could have produced feelings for "the girls" I would have. How was I to confess or repent of my body? I ached at times from the stress, and I cried in secret when I couldn't manage it any longer. A good cry released some of the energy, but it all returned the moment I interacted with the world again.
This brings me back to Psalm 139. Reciting the first six verses in prayer was often the closest I came to naming my experience before God. I believe that by repeating back to God—pushing back at God—with the heartfelt words of King David my faith and sanity were preserved. Despite my conflict and confusion, I clung to the belief that like David, God knew me, understood me, scrutinized me, and was intimately acquainted with all my ways—even before there was a proper "naming of my experience" on my tongue.

As I have told my story, I have purposely separated my spiritual practices from awareness of my orientation in order to highlight each. They were, in fact, inseparable and played off each other constantly. Everything or everyone I interacted with throughout the year was touched by my orientation in some way. It was another wonderful year despite the weight I carried.
This year, like the first, came to an end faster than I had hoped. Only a sense of obligation to complete my degree tore me from the work, the country, and people I loved. I had arrived in winter and I would leave in winter. One farewell gift made up for the sadness of my approaching departure. The language school director and two students decided to take me on a road trip to Mount Fuji. I had climbed the mountain twice already, once the first year and again that August. Getting up-close-and-personal with this iconic symbol of Japan was not the treat, it was the uniqueness of the trip.
Because it was December, Fuji was capped in snow and every view was spec­tacular. We stopped many times as we circled its base. In the late afternoon, we drove as far up the mountain as we could before stopping in a parking lot just above the tree line. The sun was intense enough to entice us to remove our coats despite a cool breeze. There wasn't another person in sight—an unusual experience in Japan. With no one around to trigger our adult inhibitions, we played on the slopes in the snow like children. We would have hiked higher had we had more time and not been startled by thunder coming from one small passing cloud. It was a surreal hour and the perfect farewell gift.
I made it home for Christmas Eve, but barely. As my flight from Tokyo approached San Francisco, we were diverted to Los Angeles because of fog. My connecting flight was from San Francisco! Miss it, and I would miss Christmas. After an hour and a half of sitting on the tarmac in L.A., we headed back for San Francisco. The same fog that had prevented our initial arrival had also delayed the departure of my connection. I made it home for Christmas. Spending Christmas at home was pleasant, but I missed Japan. Within a week, I was back in Alberta and ready to pick up where I had left off the previous year.