1 minute reading time
(278 words)
How a conservative christian can have a loving approach to homosexuality
Eliel Cruz | Nov 11, 2014 |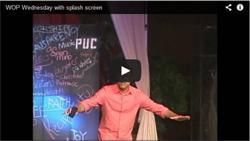 Last month, Pastor Jonathan Henderson, a chaplain at a Seventh-day Adventist educational institution, Pacific Union College, gave a theologically traditional yet loving sermon on homosexuality. Titled "Adam and Steve", the sermon was grace-filled, showed an understanding of the LGBT community and the missing stories not typically allowed in churches, and was an example of how traditional Christians can still speak about this subject in a loving manner.
I'm used to hearing sermons about homosexuality that are rooted in condemnation. These sermons typically refer to LGBT people as an abomination or even "demon-possessed." Pastors who preach this type of sermon feel it's their God-given duty to never let people forget that homosexuality, in their understanding, is an abomination. If these pastors were to give a sermon that didn't mention this, they fear they might be seen as "condoning" this abomination. Non-affirming, "The Bible is Clear" Christians refuse to acknowledge anything besides this approach, and it's this approach that has left thousands of LGBT people spiritually and physically homeless.
I understand why having full theological affirmation is important to many LGBT friends of mine. A theology that says intimacy between same-sex individuals is a sin is a theology that considers LGBT people as second-class children of God. Yet, there will never be a full theological consensus on same-sex sex for all of Christianity. We're too diverse in our hermeneutics, backgrounds, and beliefs to ever all agree. But can someone have a traditional stance on their understanding of this topic and still be a loving and safe person towards the LGBT community? I believe we can and Henderson's sermon is a prime example.
- See more at: http://elielcruz.religionnews.com/2014/11/11/conservative-christian-can-still-loving-approach-homosexuality/#sthash.VJpJBRVR.dpuf
Stay Informed
When you subscribe to the blog, we will send you an e-mail when there are new updates on the site so you wouldn't miss them.