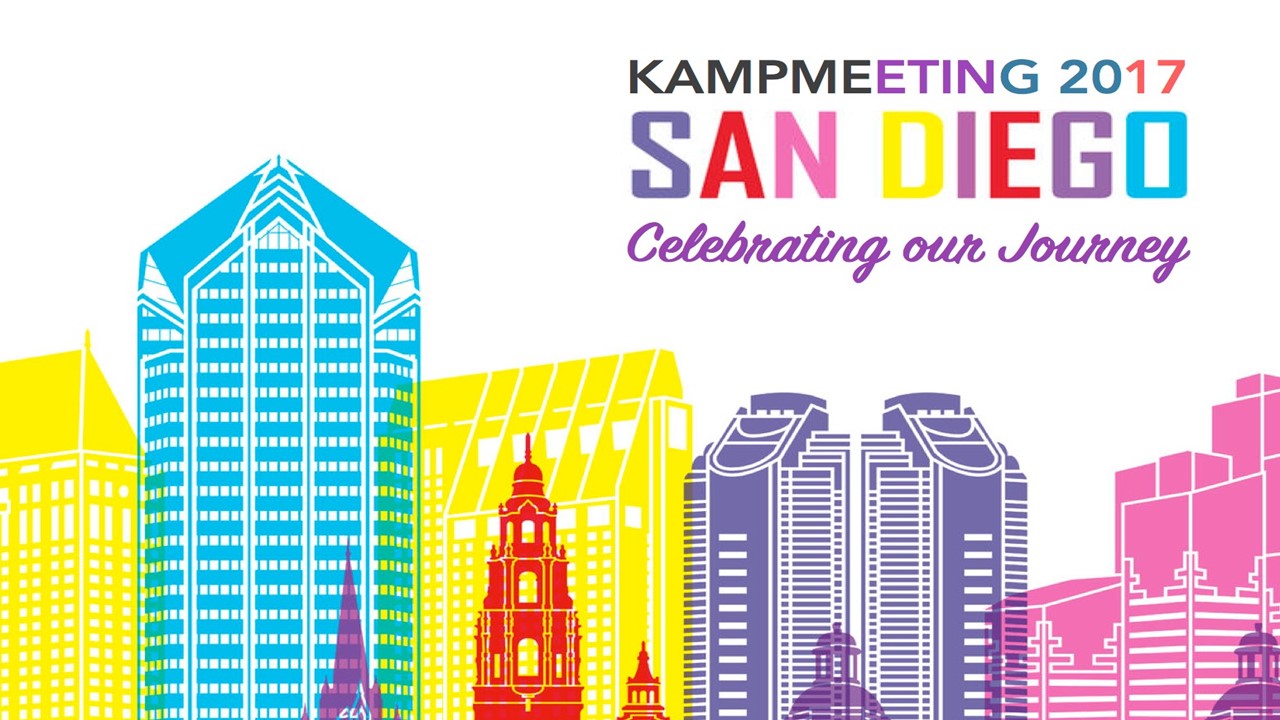 Kinship Kampmeeting 2017 is July 6-8, and our Women and Children First Retreat is July 3-6 in San Diego, California, United States! Kampmeeting takes place at the Courtyard Marriott Mission Valley, and our Women and Children First Retreat takes place July 3-6 at the LuxuryEstate near downtown San Diego
Kampmeeting is Kinship's annual conference where we come together to renew friendships, make new friends, enjoy entertainment, renew our faith, and more! This year it takes place in beautiful San Diego, a city in California, United States, known for its beaches, parks, and warm climate.
This year Kampmeeting will be different in format from previous years, and the registration fees do not include meals and hotel accommodations. We want to make sure that everyone who wants to attend can afford to do so.




SPEAKERS

PRICING
Thursday- $66, Friday- $88, Saturday- $88, Full Kampmeeting- $220
NOTE
• Sales end at 11:59 p.m. Pacific Time on listed dates unless otherwise specified.
• Cancellation fee is 10% until May 31, 2017
• No refunds after May 31, 2017.
DISCOUNTS
• First-Time Attendee (Full Kampmeeting)- $100
• Student Tickets- $100 for currently enrolled undergraduate or graduate level students. Kinship reserves the right to require verification of enrollment in order to receive this rate.
• Evening Tickets - Attending Kampmeeting after dinner. $40 per day.
• Scholarships- For individuals experiencing financial challenges, we offer a limited number of scholarships to help make attending the conference more manageable and affordable. Partial or full scholarship covers Kampmeeting ticket only and does not include food, lodging, or transportation. Scholarship recipients may be required to volunteer for several hours during Kampmeeting.
HOTEL INFORMATION
• Kampmeeting Tickets do not include lodging or food.
• Courtyard San Diego Mission Valley/Hotel Circle. 595 Hotel Cir S, San Diego, CA 92108. 619-291-5720.
• Rate for attendees: $159/night (also be available to attendees 3 days prior to, and 3 days after Kampmeeting.
• You must make your own hotel reservations by calling 1-800-321-2211 or booking online.
• Mention SDA Kinship International when booking to receive
• Call hotel for terms and conditions, cancellations, fees and other details.
CHILDREN (this does not include lodging)
• Children UNDER 18 are free
FAMILY/FRIENDS
• Family and Friends are welcome as guests of Kinship on Saturday. Registration is required.
• Sabbath lunch - Family/Friends, upon submitting a receipt that day will be reimbursed up to $15.